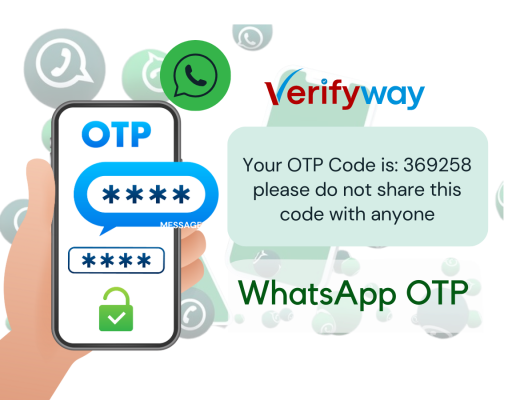 In the ever-evolving world of technology, the importance of secure and reliable OTP (One-Time Password) verification cannot be overstated. Businesses and organizations worldwide rely on OTPs to ensure the security of user accounts and transactions. With the increasing use of WhatsApp as a communication channel, a platform like VerifyWay has emerged to offer a game-changing solution for OTP verification, promising efficiency, flexibility, and global reach.
The OTP Challenge
Before delving into what VerifyWay has to offer, let's first understand the challenges that OTP verification faces in today's digital landscape. OTPs are crucial for user authentication, password reset, two-factor authentication (2FA), and more. Traditionally, OTPs have been delivered via SMS or email. However, these methods have their limitations.
SMS OTPs, for example, may suffer from delays, and they are susceptible to interception and phishing attacks. Email OTPs can sometimes end up in spam folders or suffer from delays as well. Recognizing these limitations, VerifyWay steps in to provide a superior OTP verification solution.
Introducing VerifyWay
VerifyWay is a cutting-edge platform that offers WhatsApp OTP API services with a focus on speed, security, and global accessibility. What sets VerifyWay apart is its ability to leverage WhatsApp as a secure and reliable channel for delivering OTPs. Let's dive into the key features and benefits of VerifyWay:
1. Global Reach
One of the standout features of VerifyWay is its global coverage. It supports all countries worldwide, ensuring that businesses can reach users across the globe. This is particularly valuable for organizations with international user bases or those looking to expand their reach.
2. Lightning-Fast Onboarding
VerifyWay prides itself on its quick and easy onboarding process. Businesses can integrate VerifyWay's services into their systems within minutes, making it an ideal solution for those looking for a hassle-free implementation.
3. Instant OTP Delivery
One of the primary advantages of using WhatsApp for OTP delivery is the speed at which messages are transmitted. VerifyWay ensures that OTPs are delivered instantly, reducing user wait times and enhancing the overall user experience.
4. WhatsApp Integration
VerifyWay offers the unique ability to integrate with your own WhatsApp cloud API, providing even greater customization and control over your OTP verification process. This feature allows businesses to maintain branding consistency and tailor the user experience to their specific needs.
5. Automatic SMS Fallback
VerifyWay understands that not all users have WhatsApp installed or accessible at all times. To ensure OTP delivery regardless of the user's device or app availability, VerifyWay supports automatic fallback to SMS. This means that if a user does not have WhatsApp, they will still receive their OTP via SMS, maintaining the integrity of the verification process.
6. Reasonable Pricing
In addition to its robust features, VerifyWay offers competitive and reasonable pricing plans, making it an attractive option for businesses of all sizes. This affordability ensures that even startups and small enterprises can benefit from its advanced OTP verification services.
Use Cases
Now that we've explored VerifyWay's features, let's take a look at some of the practical use cases where VerifyWay can make a significant impact:
1. E-commerce and Online Retail
Online retailers can use VerifyWay to enhance the security of user accounts and transactions. Instant OTP delivery ensures seamless shopping experiences, while global reach accommodates customers worldwide.
2. Financial Services
Banks and financial institutions can leverage VerifyWay to fortify the security of their online banking platforms. By offering OTP verification through WhatsApp, they provide an added layer of protection against unauthorized access.
3. Healthcare and Telemedicine
In the healthcare sector, patient data security is paramount. VerifyWay can help healthcare providers ensure the confidentiality of patient information during account creation and access to medical records.
4. Travel and Hospitality
Travel and hospitality businesses can benefit from VerifyWay's global reach when sending booking confirmations and itinerary updates. The platform's reliability ensures that critical travel information reaches customers promptly.
Conclusion
VerifyWay is transforming the landscape of OTP verification by harnessing the power of WhatsApp. Its global reach, lightning-fast onboarding, instant OTP delivery, WhatsApp integration, automatic SMS fallback, and reasonable pricing make it an attractive solution for businesses seeking to enhance security and user experience simultaneously.
In a world where cybersecurity threats are ever-present, VerifyWay's innovative approach offers a robust defense mechanism against unauthorized access and fraud. As businesses continue to embrace digital transformation, VerifyWay emerges as a vital tool in safeguarding their operations and user data.
Whether you're a startup, an established enterprise, or anything in between, VerifyWay's comprehensive OTP verification services are poised to elevate your security measures and user interactions to new heights. Say goodbye to the limitations of traditional OTP delivery methods and embrace the future with VerifyWay.