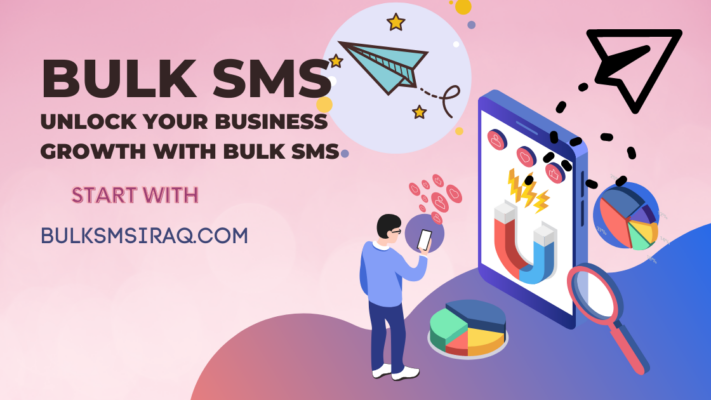 Introduction: What is Bulk SMS & How Does It Help Businesses?
Bulk SMS is a form of SMS messaging that allows businesses to send out mass text messages at once. It helps businesses to quickly reach out to customers and prospects with offers, alerts and essential updates. Bulk SMS provides a cost-effective way for businesses to communicate with their target audience on their own terms, without relying on third-party services or platforms. With bulk SMS, businesses can reach out to customers in real-time and ensure that their message reaches the right people at the right time. Additionally, it also enables businesses to track customer engagement using various metrics like open rates and click-through rates. As such, it is an effective tool for marketing campaigns as well as customer service initiatives.
Bulk SMS also gives businesses the ability to leverage the power of mobile technology, allowing them to communicate with their customers wherever they may be. With this technology, companies can send out text message broadcasts that allow them to inform their customers about new products or services, special offers, or any other important information in an efficient and cost-effective manner.
The use of bulk SMS has become increasingly popular in recent years as more and more businesses are turning to it as a way to reach their target audience quickly and effectively. It has proven to be an efficient form of marketing for many different types of businesses including eCommerce stores, retail outlets, restaurants, and more.
The Top 5 Benefits of Using Bulk SMS for Business
Reach a larger audience with bulk SMS marketing and see the effect on your business.
Get the best return on investment by harnessing the power of Bulk SMS to reach thousands of customers at once.
Streamline enterprise communications with custom-built messaging solutions tailored to your needs.
Reach out to your customers in a fast and efficient manner with bulk SMS marketing.
Gain valuable insights on customer behavior and measure ROI with bulk SMS campaigns. Get enterprise-level messaging solutions that helps enhance customer experience, increase sales and optimize operations.
3 Best Practices When Sending Bulk Messages
Bulk messaging is an effective way to reach many people quickly and cost-effectively. However, if you don't have the right strategy in place, your messages can easily get lost in the crowd. To ensure that your messages are successful, it's important to follow best practices when sending bulk messages. Here are three of the most important ones:
1) Personalize your message: Personalization is key when it comes to bulk messaging. Make sure you include personalization tags so that each recipient feels like you are talking directly to them.
2) Test before sending: Before sending out a bulk message, make sure you test it first. This will help identify any potential issues with the message and ensure that it looks good on all devices and platforms.
3) Monitor performance: After sending out your message, make sure you monitor its performance. This will allow you to track how many people opened or clicked on the message, as well
Text message marketing best practices include understanding who your customers are and what kind of messaging resonates with them, crafting short and concise messages that get straight to the point, creating compelling content that captures attention, timing your messages for maximum engagement, and testing different messaging strategies against each other. By following these best practices and leveraging data-driven insights about customer preferences, brands can ensure their text message campaigns are successful.
Save Time & Money with Automated Text Messaging Tools
Automated text messaging tools have revolutionized the way businesses communicate with their customers. By leveraging these tools, businesses can save time and money while improving customer engagement. Automated text messaging tools allow businesses to send out personalized messages quickly and easily, helping them reach a larger audience in a shorter amount of time. With automated text messaging, businesses can also automate customer service tasks such as responding to inquiries or scheduling appointments. These automated tools also help reduce operational costs by eliminating the need for manual labor and reducing human errors. In addition, automated text messaging tools provide valuable insights into customer behavior which can be used to improve marketing campaigns and drive more sales.
Stay Connected With BulkSMSIraq.Com
BulkSMSIraq is the perfect gateway for staying connected with your customers in Iraq through SMS and WhatsApp. We provide Bulk SMS messaging service, API integration, and a powerful WhatsApp Cloud API for businesses.
Send Bulk SMS messages with ease in Iraq
BulkSMSIraq.Com has a powerful and easy-to-use platform that allows you to send out bulk SMS messages to your contacts. We have an intuitive user interface that makes sending out bulk messages a breeze.
API Integration
Our API integration feature allows you to integrate your existing system with our platform, making it easy to send out messages to multiple contacts at once. With our API integration, you can automate tasks and make the most of your time.
Business WhatsApp Cloud API
Our WhatsApp Cloud API provides businesses with access to our advanced messaging platform, allowing them to send out personalized messages using our powerful cloud-based solution. You can rest assured knowing that your messages will be delivered instantly without any hassle or delays.